Buffalo horn limb tip overlays build along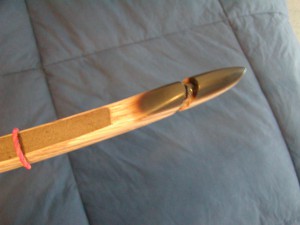 Here's a build along for adding those sexy buffalo horn overlays to your limb tips. I think they look great and make a good bow look even better. There's just something about polished horn on a trad bow that makes it look really professional.
Adding layers of horn, antler, or linen phenolic to your limb tips will make your bow limb tips more durable for use with high performance strings, stronger to avoid scratches and denting by rough use while hunting, plus…they just look fantastic. Horn tips are good for both an old bow needing tip repairs or for that new bow you are making. They look good and work great on all types of bows: self bows, wood laminate bows, and fiberglass bows. They are simple to install yourself and this build along will show you how.
First you have to get some overlay material. One way might be to catch your own wild water buffalo so you can collect his horns, saw them up, and grind them into usable pieces, or you can simply get them like I do and buy them from Ebay as "knife scale" blanks. Click here to read the related post named Knife Scales for Longbow Tips. These Ebay "horns" come already sawed and ground into small planks. They usually cost about $8 to $15 depending on the size and color. Most of them are various shades of brown or black, but I also bought some that were a beautiful reddish color with streaks. I like the ones with streaks the best because they look really nice when finished. Most are about 1-1/2″ wide by 3 or 4″ long, and 1/8″ to 1/4″ thick. These are the perfect size for making tip overlays. I can usually get four limb tip overlays out of each scale. Since they are sold in pairs, that means you can get enough for four bows out of an $8 dollar pair. That seems like a good price to me. Probably the thing I like best about buying them this way is that they are already cut and ground so I don't have to do it. Just the thought of holding raw, weirdly-shaped horn, antler or bone with my fingers while running them through the band saw really freaks me out. I don't care to cut off any of my fingers just to get some all natural, primitive material!
>Click on each photo to enlarge it.<