One of the most comfortable quivers to carry in the field or woods is a plains indian style quiver. This one was made long enough to cover the fletchings of a standard 28″ arrow with field points or broadheads with just the nocks sticking out of the top. With the nocks showing, they are easy to get a hold of with your fingers, but with the fletchings covered up, they don't make loud scratching or scraping noises against stuff like tree branches or even the ground if you are crawling around. I just find this quiver style to be a really comfortable and quiet set up for hunting.
I have to admit that I am an artist first and a bowyer second. Yes, making bows is an opportunity to unleash my inner mad scientist, but it is also a chance to express my artistic ability. Whenever anyone asks me what I do, these days I just say "I am an artist" or "I am a designer." Most people understand what that means. I'm wired as an artist and so I see the world through an artist's eye, always searching for beauty, unity, and an attractive and satisfying solution.
I think everyone knows at least one artist…that eccentric aunt or uncle who paints, Continue reading →
When I first started making bows, the best instructions that I could find said to use a "6" rat tail file" for cutting in the string nocks at the limb tips. The 6″ file made a pretty wide string groove that had to also be pretty deep in order to keep the string from slipping out. I remember one time taking a new osage self bow I had just made to my family's Thanksgiving dinner. My tall, younger brother pulled the bow back pretty far and the top string loop came right off of the bow, sending the bow flying across the room full of people, hitting a bookshelf with awesome force, and making a huge clattering noise. Continue reading →
In the previous post Grip Size of a Recurve I was asked what are good angles for low, medium, and high wrist grips. Well, I'm sure that this is subjective and arbitrary at best, so I made a simple illustration that might be helpful. You can probably print this out and adapt it for use on your own riser design, whether it is a recurve or longbow. Just orient the drawing on your blueprint to make a template, or transfer the outline to the riser block before you cut it out. There isn't really much difference in the grip portion of either bow style if it is a sculpted grip, Continue reading →
In the previous post, Grip size of a longbow, I listed some basic sizes for locator style longbow grips. In this post, I'll provide the same information for recurves—the best ways to measure a grip and suggested measurements for small, medium, and large recurve grips.
The grip on a longbow is usually smaller and more refined than the grip on a hunting recurve, a target recurve, or even a compound bow. Obviously, the most comfortable grip size is determined by the size of your bow hand and your personal preference for the way the grip feels. Plus, we all know that men, women, and children have different hand sizes. In this post I will describe the best ways to measure a grip and suggest some measurements for small, medium, and large grip sizes. Continue reading →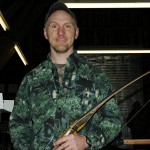 Ken Rohloff is the founder of WhippenStick Custom Bows. Ken is a custom bowyer and creator of the bow he calls the "Whippen Stick" custom bow. I first met Ken at the Leatherwall traditional archery forum probably in the early 2000s when he posted a few longbow pics. Immediately, I noticed how his bows stood out from the rest, not just because of the beautiful wood choices, but because of their refined, balanced design features, and obvious superior craftsmanship he had used in their construction. I later got to know Ken better at the Pirates of Archery traditional archery forum where we both posted a lot and had a lot of interesting discussions about making bows. Continue reading →
It might seem like there are a million different types of longbow grips/handles, but I think they can easily be classified in five categories of common styles: 1) straight or "Hill"-style, 2) dished, 3) humped, 4) locator, and 5) sculpted/recurve style. Although each has its own definitive shape, you can probably make about any longbow design with any of these grip styles depending on your preference. In this blog post, let's look more closely at each of these styles.
This is the first of what I hope will be a series of interviews with custom bowyers. There is so much to learn from these bowyers who work full time doing the craft. I hope you find this information useful in your bow making!
Bill Howland is the owner and bowyer of Brackenbury Custom Bows, Nine Mile Falls, Washington. He has owned and operated the company since August, 2001. The company was started by the late Jim Brackenbury who died in 1991. Bill continues the production of several Continue reading →
My friend Brent scored big on this nice 10 point buck this weekend (November 3) with a bow that I made for him. One of his Facebook friends said that "Brent scored on a nice buck with is "old school bow"…lol. As you and I both know, there is nothing old school about a fiberglass recurve, but in this age of high-tech metal compounds I guess that a traditional bow seems like something from the past. There is something really cool about "building your own bow" and killing a deer with it. It is even cooler when it is someone else kills a deer with a bow that you made. Continue reading →